Post by Velvet on Feb 28, 2019 3:10:30 GMT -6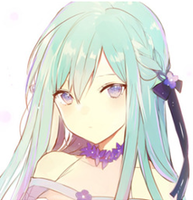 ★ Malu, Lindsay ★
( Lin ) -- ☆
N A M E: Lindsay Malu
A G E:
18
B I R T H P L A C E:
Sinnoh, Hearthome City
G E N D E R:
Female
O C C U P A T I O N:
Pokemon Trainer
S T A T S:
10/10 HP
★ A P P E A R A N C E:


Lindsay is a young female with light aqua green hair, with light purple eyes she tends to wear a white dress exposing her shoulders but had a blue belt around the torso and some crop fabric separate for her sleeves, she has some faded smooth fabric covering across her chest with a nice purple flower clip for design even a purple flower necklace that goes all the way around her neck plus a hair clip on the side that keep her side braid in place which of course have a small purple flower on it..She has some nice opened toe boots to wear that are the same as her hair, Lindsay has smooth skin that is a tannish color having earrings on each ear and an anklet on her (right) that have small gems.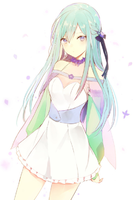 Head - Default [ + 0 HP ]

Body - Default [ + 0 HP ]

Legs - Default [ + 0 HP ]

Left Arm - Default [ + 0 HP ]

Left Hand - Default [ + 0 HP ]

Right Arm - Default [ + 0 HP ]

Right Hand - Default [ + 0 HP ]

Left Foot - Default [ + 0 HP ]

Right Foot - Default [ + 0 HP ]

Accessory 1 - Default [ + 0 HP ]

Accessory 2 - Default [ + 0 HP ]

Accessory 3 - Default [ + 0 HP ]

Accessory 4 - Default [ + 0 HP ]
---
( PERSONALITY ) -- ☆
★ G E N E R A L:
Lindsay is more of a Shy yet calm type at the same time, but when it comes to humans its complicated for her sometimes since she's afraid to mess things up even her sentences as well..but Pokemon she doesn't matter at all.. *(it only depends on WHICH pokemon doesn't look so scary to her)*
★ L I K E S:

♥ Food (Sweets, Fruit, Spicy)
♥ Photography
♥ Adventure (Like walking around areas going to different regions)
♥ Learning things (Pokemon, Plants, Items, to etc.)
♥ Contest
★ D I S L I K E S:

✗ Mistreated pokemon
✗ Disrespected people
✗ People who lied and are thieves
✗ dislike three.
★ E T C E T E R A:
(Backstory)


Lindsay was shy around pokemon but around the age of six her mother performed into pageants she never knew what it meant until her father told her that her mother is a pokemon coordinator, she was very excited to spot how beautiful pokemon can do with such skills..though she didn't know all much about pokemon after seeing the effects..it made her life so different wanting to be just like her, when she for her dad he tells her stories on how amazing pokemon were...the history it made her be more be brave, So she attended a pokemon school for five years..After many years have gone by..her mother retired as a coordinator so she could explain stories to her daughter about the wonderful experience she had when she was 14, after sometimes..she turned 18 as she told her parents that she will go on her very first journey, knowing that she'll be nervous going alone for the first time she thinks she can handle it so as of today..she will start her new life becoming just like her mom and learn many new things!~
- She doesn't mind all pokemon but..she sometimes doesn't like bug pokemon it just depends on how cute it is...
- Her mom is pregnant with a baby girl (will be born later on )
- As a child, they went to the Alolan region and her father got her an alolan vulpix as a birthday gift
---
( POKEMON ) -- ☆
★
O N H A N D:

Alina | Alolan Vulpix | Nature | Snow Cloak | female | 20/20 HP | 0/10 EXP
★ B O X E D:

nickname | species | nature | ability | male or female | --/-- HP | --/-- EXP
---
( OTHER ) -- ☆


-P
okedollars (100)
-Potions x2
-Greatballs x2
-Camera (full kit)
L O C A T I O N: where your character was last played.